Alloy Wheel Refurbishment Sleaford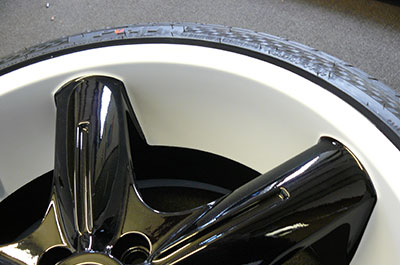 We are the leading alloy wheel refurbishment company in Sleaford
Wheelcraft has full in house wheel refurbishment facility. We can offer full refurbishment of alloy wheels returning them back to showroom condition. Even if you have bent a wheel out of shape this may be repairable. All this is a massive saving on the alternative of replacement.
Are your wheels showing signs of their age with blemishes, scuffs, chips, brake dust pitting, scratches or discolouration?
Could your car be devalued by shabby looking alloy wheels?
Would you like to give you car a makeover with a new colour or finish alloy wheel?
Have you suffered at the hands of British roads and damaged a wheel and need a repair?
If the answer is yes then we can help you transform your old wheels back to showroom condition.
FAQ
Do you remove unsightly kerb damage: scrapes, scuffs and scratches?

All kerb damage is removed by hand or using our machines depending on its severity.



What if my wheels are corroded, blistered or oxidised?

All corrosion is removed from the alloy during the stripping stages and once recoated and laquered will be completely sealed to prevent further oxidisation.



Can you refurbish 2 and 3 piece wheels?

Yes, all wheel types can be accommodated and are completely disassembled, refurbished and reassembled.



Can you refurbish machine faced wheels?

Yes, complete and part machined wheels can be repaired and refurbished.



Do you remove the existing paint finish?

Yes, tyres are removed, the wheels are bead blasted to back to alloy, repaired if necessary and repainted through a multiple paint application process.



Can you match my original paint finish?

We have a range of colours which will closely match your original paint colour at no extra cost. Colour Coded match is available for an additional cost.



Can my wheels be refurbished in a different colour?

Yes, they can be refurbished in a wide range of colours including black, gold, white, anthracite and many more.




How long is the process?
The process varies dependent upon the finish and condition of the wheels, typical lead times are: Refurbish only - 5 working days; Refurbish and repair - 6 working days.



Will you fit new tyres to my refurbished wheels?

Yes, we have a full tyre sales and fitting service and can offer a range of tyres at highly competitive trade prices.



Can you supply spare wheels while mine are being refurbished?

Yes, in some cases we can supply 'slave' wheels for you to use while the refurbishment is taking place. A deposit may be required.